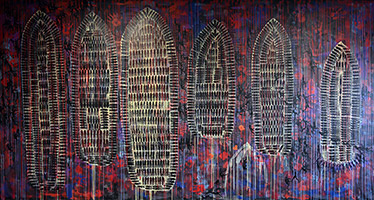 The Galleys of Souls – 2 by OTGO 215x400cm
"Galleys of Souls" is a memorial on human trafficking and slavery.
Now every: Black Lives Matter!!!


by
OTGO

Galley of Souls

Slavery
and enslavement are both the state and the condition of being a slave, who is someone forbidden to quit their service for another person and is treated like property. Slavery relies heavily on the enslaved person being intimidated either by the threat of violence or some other method of abuse. In chattel slavery, the enslaved person is legally rendered the personal property (chattel) of the slave owner. In economics, the term de facto slavery describes the conditions of unfree labour and forced labour that most slaves endure. In the course of human history, slavery was often a feature of civilisation and legal in most societies, but is now outlawed in all countries of the world, except as punishment for crime.
https://en.wikipedia.org/wiki/Slavery