Painting Life: OtGO (Otgonbayar Ershuu)
(The interview was conducted in German language and later translated into English)



It is a sunny late afternoon when I meet Otgo in his art gallery in the trendy district of Berlin- Kreuzberg. I pass through a small gate in the backyard of one of Berlin's typical tenement houses and ring a bell. Swiftly the door is opened and
Otgo
welcomes me to Zurag, his art gallery.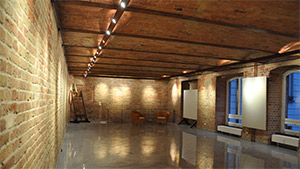 Gallery ZURAG Berlin 2012

Zurag, the first Mongolian art gallery outside of Mongolia, received lots of attention, especially from the Mongolian side: The current Mongolian president T. Elbegdorj was present at its opening in 2010 and in Mongolia it already became something of a household name. It is where Mongolian but also German and international artists exhibit their work. Essentially though, as he tells me, it simply is an art gallery for artists. And so it fits that the Mongolian word

Zurag

stands for a multitude of meanings: it can mean painting, photograph, drawing, picture, illustration or depiction.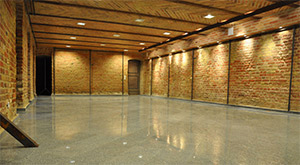 Gallery ZURAG Berlin 2012

Otgo's
calm voice echoes through the large room with its brick stone walls. I take a look around and after peaking at his art work on the lower floor we finally sit down and I ask my first question: "Which words come to your mind when you think of Mongolia?"
Otgo
finds this question rather strange and looks at me first in astonishment, then says more determined: "My home!"
Dressed casually in a dark sweater and a dark pair of pants, the 31-year-old who is sitting in front of me has been painting ever since he was a little boy. After studying traditional Mongolian painting in Ulaanbaatar, Otgonbayar Ershuu came to Germany in 2005 and continued his studies at the Berlin University of Arts from which he graduated with a Masters of Arts in "Art in Context". His graduation project was the illustration of "The Secret History of the Mongols" as comic book based on the traditional Mongolian painting style. With Zurag he turned his passion into a business and finally established his own art gallery.
Otgo's
gentle facial features lighten up. "Now I'm in Berlin so I'm a Berliner." He tells me that wherever he is, he adapts. "After all, I am Mongolian", he says and adds: "Although I'm in Germany Mongolia is always there! "Every year he visits Mongolia once or twice because of his work but also because he is homesick and has a strong nostalgic yearning for "everything that is Mongolia: the food, the wind, the sky, ... everything!" Yet, as he explains, he also longs for the not-so-pleasant parts of life in Mongolia because "life is dynamic: It is day and night, good and evil".
Whenever Otgonbayar Ershuu (his artist name is OTGO) visits Mongolia he tries to escape Ulaanbaatar (UB) because, as he says, he wants to "really" feel and see Mongolia. "Not that UB is not Mongolia", he quickly adds. "But it became strange. Mongolia is simply not a sedentary nation and the city [Ulaanbaatar] is not meant for one million inhabitants." Despite these limitation, in
Otgo's
opinion, this [urbanization] is a normal process because "nomads are curious". As he puts it, nomads have no established city culture which manifests itself for example in UB's terribly chaotic lack of streets. "People are driving cars as if they would be riding horses. It takes time to learn."
I am curious to know what
Otgo
likes to do whenever he visits the Mongolian countryside. His immediate response, and quite to my surprise, is: "Scream." According to
Otgo
, everybody defines his or her freedom differently. In the city, so his explanation, one is constantly surrounded by walls, one's voice gets quieter, possibly to be more polite but "it is impossible to really scream." His screaming functions, as I am made to assume, as venting energies in a good, non-violent way. He goes on that screaming in urban places differs from screaming in open space, and delves into more psychological matters. "Like clothing, whether elegant or poor", he argues, "the environment around you enwraps you and subconsciously affects your behavior". And from spending much time in the city, as
Otgo
noticed, he already feels that his own voice getting quieter and quieter. Almost melancholically, he whispers: "It"s a pity".
This makes me ask him whether he feels more comfortable in the city or in the Mongolian countryside and
Otgo
, replying in a matter-of-fact tone, says: "I'm an artist, this means I need to experience. When I'm in the countryside, I enjoy it. But only for a certain time because I am young, I am not used to this kind of life and after a while it gets boring." A visit to the countryside for him is "like a journey".
Here,
Otgo
is always on the move, may it be by car, on feet or on horseback. Like anticipated, the latter acts as keyword and for the next few minutes
Otgo
passionately talks about the art of horse riding and the difference between Mongolian and German horses ("German horses are too pretty"). "Horse riding, preferably on young wild Mongolian horses", so
Otgo
, "is fun; You live and interact with nature".
We come to talk of his choice of accommodation and I wonder whether he stays with nomadic herders in their gers. "Of course!"
Otgo
exclaims. "It's Mongolia! Everyone, with good or with bad intentions, is welcome!"
As we continue the interview, I wonder how
Otgo
would describe the current situation in the country of his birth. "Talking of the economic situation and the natural resources", he begins, "I compare it to the film Avatar. "
Otgo
is serious now. "It's about problems and Mongolia has huge problems because it has many resources. At first one may think "Ah, Mongolia is lucky, they have so many natural resources" but that's the problem. Political people are not able to distribute the money well. Instead, they have private interests and well, first of all they want to get richer. It's Avatar! While the people get poorer and poorer, the rich get richer... "
Otgo
compares this to wolves killing sheep: The wolves are too stubborn and do not share their prey with others, for example with the foxes.
"You can imagine... "
Otgo
is upset. "And concerning sustainability and environmental pollution, they don't spend any thoughts on that. Foreign companies that enter Mongolia, they do not think for Mongolia."
Otgo
talks fast but his voice remains quiet. "They stay for a short term, they do not care, they show no concern whatsoever and they know there is corruption."
Otgo
tells me that he remembers the time of the political change around 1990 very well. "Everybody was hungry", he recalls. "There was money but no food in the stores; sometimes just pepper, you know, Mongolian products. Then you are hungry. "
Otgo's
parents worked in a newspaper factory and had the possibility to sell newspapers in addition to their income. Also
Otgo
, barely 10 years old, sold newspapers on the street. "Everyone somehow had to work. In the summer, we were selling drinks... Many of my generation remember."
Coming back to his art, I question Otgo about any political intentions he might express. By painting myriads of horses on large canvasses, he undoubtedly makes strong references to the nomad culture. "Politics influence you", he tells me. "Sometimes without knowing."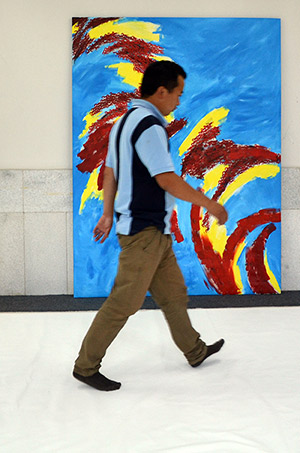 OtGO & OtGO Studio Berlin 2012
Also the issue of urbanization finds a voice in his art. "It's difficult to stop urbanization. It's everywhere, also in Berlin! "
Otgo
tries to make point. "The city is the centre. There you have many possibilities and young people can move freely. I can understand that." As he continues
Otgo
explains that the nomadic life is very difficult for young people, especially if you are not used to it. The need for information plays a crucial role, too. "For Mongolians education is important", he adds. "So young ones try to go to the city and study. You want to enjoy life. After living a city life it is difficult to return to the nomadic life." As he puts it in short: "If they come, they'll stay."
"
Otgo
, have you ever thought of living a traditional nomadic life?" I wonder. "Sure, it's fun. I like to do this for one to three months, it brings relaxation. There is no stress. "With the diligence of a teacher, he points out to me that "stress" has no place in the nomadic vocabulary. "Stress is a word for the city. In the countryside there is no stress. There is a certain dynamic but with nature there is no stress." Again we come to speak of the large-scale migration into the city.
Otgo
sees the reasons for urbanization in Mongolia not only in the need for education. In the city "it is easier to live", so
Otgo
. "Nomadic life is like 200 years ago! Young people cannot live such a life, not like older people who are used to it."
Talking of young and old, traditional and modern life in Mongolia, I am curious to know what he thinks: "What is Mongolian?" Without being able to define this,
Otgo
now asks me with a smile: "What is art? This is a question that can't be answered. There are many opinions on that!" He hints at the danger of prejudices and rhetorically asks whether Germans are "punctual, pedantic, and Nazis".
"Mongolian", he begins to explain, "is historically seen, an invented word. Scientifically it is not proven." The word mongol first appeared in "The Secret History of the Mongols" but there is no proof as to what it actually means.
Otgo
refers to Chinggis Khan who was "wise because he chose a name that unified different ethnic groups. In need of a name that could represent a big empire and a long history, he chose mongol", so
Otgo
who agrees that of course history may be falsified. "But he [Chinggis Khan] also could have said that this is the Empire of the Chinggis",
Otgo
says with a grin. "There is no mongol nationality, it's an invented land like the USA." Altogether, he questions the politics of labeling: "Is my art Mongolian? Or is it Berlin Art? German art?"
Otgo
finds such wording very strange.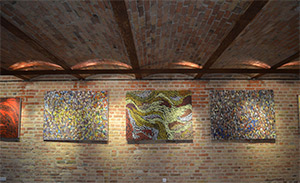 OtGO Show – Gallery ZURAG Berlin 2012
But to be a Mongolian artist in Berlin is a chance for him. Besides, as he says himself: "I am Mongolian. That means I have to think like Mongolians, for example like Chinggis Khan, like my ancestors. The word mongol does not have much of a definition. It is a neutral word, it has no meaning. This stands behind my idea: Wherever I am there is Mongolia."
Often, but not exclusively, the art in his gallery has a connection to Mongolia.
Otgo
's aim is to enable dialogue, cultural exchange and to "build bridges" which he does with the help of networking (supporting Mongolian artists in Europe and likewise supporting German artists in Mongolia).
Otgo
answers my question whether he feels a certain pride by being called "Mongolian artist" simply with: "You need pride. I live from that. This is my motivation, it's like an idea that comes magically." Talking of the reactions he gets for his art,
Otgo
remarks that Mongolia makes people curious. "Mongolia? It almost has a magical meaning, like a fairy tale." For some people it is "an exotic country with people that are close to nature or things like that. This simply is power of imagination."
Otgo
tells me the story of a Swiss film team that visited a nomadic herder family in the Mongolian countryside. After talking to the family in the ger

(Yurt)

, the film team went back to their jeep to set up the camera equipment. When returning to the ger, they found everything neatly arranged, the family members had put on their best deels (clothing) and the women had also put on makeup. A discussion followed because the film crew did not want to shoot the film and the Mongolians did not understand the fuss. For the film they wanted to look representative and "beautiful" but now the film concept did not work any longer for the Swiss team.
Otgo
understands both sides but swiftly adds that for him the mentality of the nomads is "to be always beautiful". Upon asking him what he means by saying that,
Otgo
has difficulties explaining it further. Instead,
Otgo
describes the nomadic mentality with the following examples: When nomads see someone in the distance, they first make tea and then they take their binoculars to see (exactly) who is coming. Once the visitors arrive at the

ger

the tea is ready! This great hospitality also gives insight to other interpersonal aspects. When nomads are traveling and one is tired, nomads help each other out, so
Otgo
. In the city when people meet on the street they quickly greet one another while in the countryside, as Otgo tells me, "you have time. You take time." May it be with traditional Mongolian snuff or by smoking a cigarette; you exchange news which may take "one or two hours, maybe half an hour". These customs however are impossible to live in the city because "there is always the need to adapt", so
Otgo
.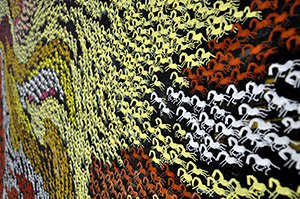 Roaring Hoofs -12
by OtGO 2008. Tempera on cotton, 120 x 160 cm
We come to talk of music and which kind
Otgo
likes and preferably listens to.
Otgo
does not have to think about this for a long time and puts it this way: "I listen to anything that sounds good! If food tastes good, I eat it! If music sounds good, I also listen to Indian music." Talking of other traditional Mongolian customs like the game Shagai (

Shagai

is the Mongolian ankle bone game. Taken from sheep or goat, the ankle bones are used to play dice, the so-called ankle bone shooting or they can also function as means of fortune telling),
Otgo
says that "of course" he played it in his childhood but now not anymore.
This leads me to the question what exactly from the Mongolian culture he wants to pass on to his children. Clearly, language means a lot to him. "If you have language, then you have culture. Language opens the door for culture." I hear
Otgo
say. "So it is my task to teach my children Mongolian. I would blame myself if they wouldn't learn it." Sometimes, as he tells me, he forgets to celebrate traditional Mongolian festivities like
Tsagaan Sar
or
Naadam
because "here [Germany] is no atmosphere". Only when his family and friends send him text messages or e-mails he feels reminded.
Otgo
does not celebrate those festivities intentionally but he "is always happy when there is a gathering [in Berlin], and people come together, talk in Mongolian and eat
buuz
(
Buuz
: steamed, handmade dumplings filled with minced meat.
Buuz
are a Mongolian national dish. )"
.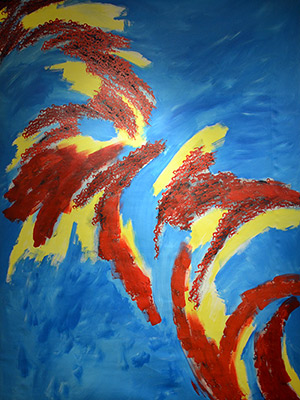 Roaring Hoofs-26
by OtGO 2012, acryl on canvas, 200 x 150 cm
OTGO Studio Berlin 2012